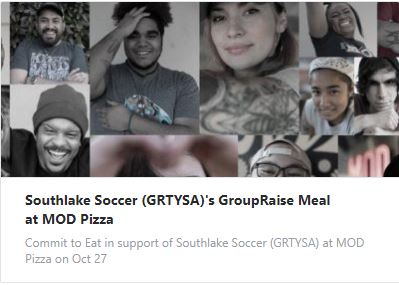 Association Fundraiser – October 27th – Eat Pizza!
Support Southlake Soccer and get a night off cooking while doing it! Eat at Mod Pizza on Tuesday, October 27th from 10:30am-10:00pm, grab it to go for lunch, a quick after practice meal, or socially distanced meal at a park and earn Scholarship money for our organization. Lets make sure that all children that want to play soccer get that opportunity!
You can participate in this fundraiser by dining in with our flyer, or by take out, delivery, or pick up by placing your order on MOD Pizza's online order website. Use the promo code of "GR162532S" and 20% of your meal's price will be donated back to Southlake Soccer (GRTYSA).  Please get more information, and RSVP at the following website so they can staff appropriately! 
Southlake Soccer (GRTYSA)'s GroupRaise Meal at MOD Pizza